REVIEWS - Contemporary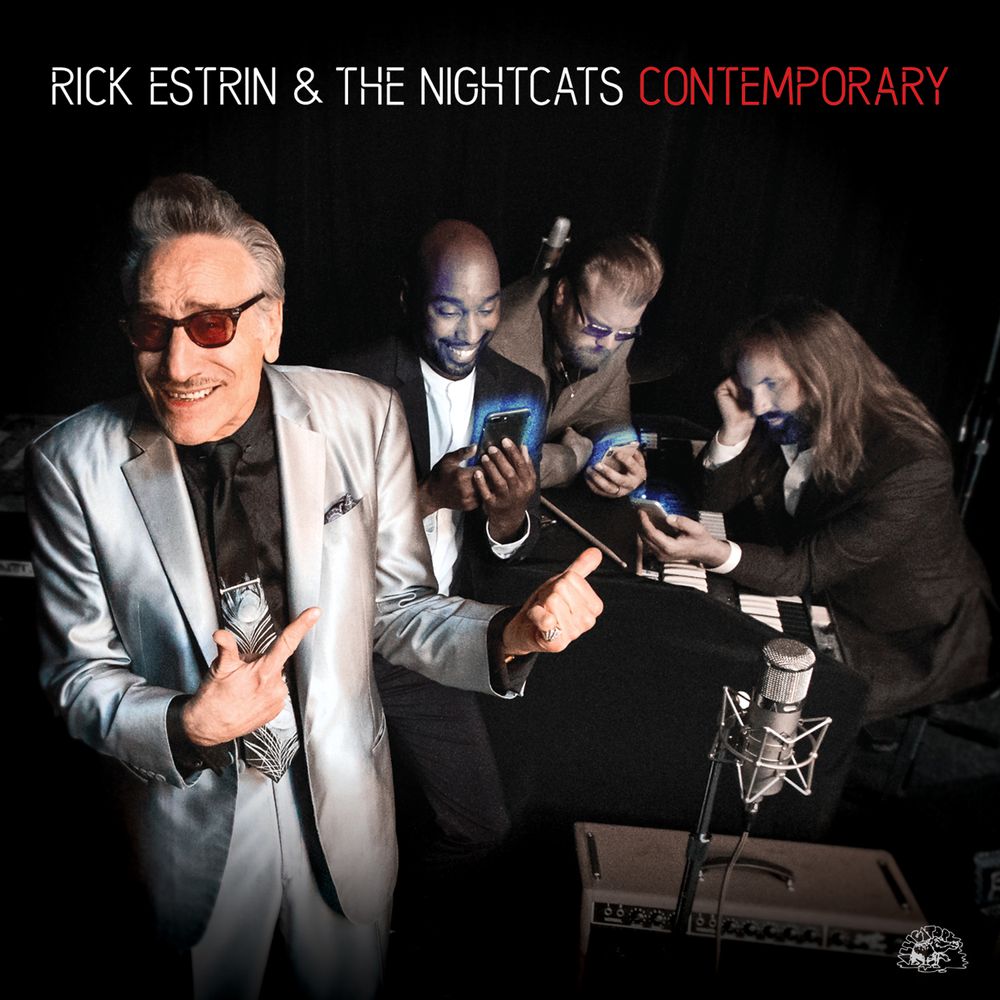 BluesBlast Magazine
by Marty Gunther
December 2019
Anyone who's ever spent time listening to Rick Estrin and his band of melodious merrymakers since their debut in 1987 knows they've always delivered tunes that reflect modern ideas and sentiments with a great deal of insight and humor. But he and The Nightcats put it in overdrive for this release, their 15th title in the Alligator catalog.
Even though they've been there all along, it's a tongue-in-cheek effort to break through the glass ceiling into the world of mainstream music, and it works on all counts as the band seamlessly stretches its comfort zone to include new, no-holds-barred numbers that incorporate elements that are more familiar in hip-hop and other art forms.
Fear not, though. Contemporary is cutting-edge blues through and through, a template that works perfectly as it stretches sounds formulated a century ago in Mississippi and creates a blueprint that will appeal to music lovers in all genres in future generations.
The core lineup of The Nightcats – Estrin on vocals and harp backed by multi-instrumentalist/producer Kid Andersen and keyboard player Lorenzo Farrell – remains intact since the band reformed after the retirement in 2008 of guitarist and former headliner Little Charley Baty. Amping things up on this one is the addition of Derreck "D-Mar" Martin on percussion. A music educator of note, his background includes 17 years with Little Richard and work with a who's who of blues and soul artists, including Bobby Rush, Carla Thomas, Syl Johnson, Dorothy Moore and dozens more.
Recorded at Andersen's award-winning Greaseland Studios in California, the mix also includes former Nightcat Alex Pettersen on drums and Quantae Johnson on bass for seven cuts and guest appearances by Jim Pugh on organ and backing vocals provided by Lisa Leuschner Andersen and James, Walter and Dwayne Morgan, the gospel trio who record as The Sons of the Soul Revivers.
One of the most inventive lyricists of the modern era, Estrin opens the action with "I'm Running," an unsettling description of being chased by Father Time and having "no time for looking back." His intense mid-tune solo is interspersed with the ticking and chiming of clocks and the call of the cuckoo. Andersen's guitar is featured on the soulful "Resentment File," Rick's advice for men to treat their women better.
The title tune, "Contemporary," is up next. After obsessing on claims that "the blues is goin' nowhere," he comes to the conclusion that it's time to change his sound. After a light, breezy and bluesy opening verse, the band erupts atop a deeply funky beat and progresses through multiple formats, including a stellar rap delivered by D-Mar. By the finale, Estrin assures listeners he's got the "key to guarantee triple-platinum success" and plans to kick everything off with a farewell tour.
Fear not, though, The Nightcats return to their root with "She Nuts Up," Rick's hipster description of his lady, who occasionally goes off the rails because of some unexplained past horror. It's delivered in the same easy-greasy manner fans have come to know and love. Folks will rush to the dance floor for "New Shape (Remembering Junior Parker)," which is propelled by a heavy bass beat and professes love for a woman who's gone from rail thin to heavier and extra-fine.
The pleasing stop-time instrumental "House of Grease," and anthem to Kid's recording studio, features Andersen trading guitar licks with Farrell on keys and stellar work on the kit from D-Mar before Rick wonders if money is the "'Root of All Evil,' what's it called bein' broke?"
The slow blues, "The Main Event," finds Estrin on chromatic and reflecting on his inevitable demise, surrounded by friends as his body's been lowered into its grave, before the mood brightens for "Cupcakin'," a jazzy instrumental penned by Lorenzo on which the entire band has space to shine.
"New Year's Eve," which looks forward to turning the page on 2019 and flipping the calendar, precedes a cover of Detroit bluesman Bobo Jenkins' 1959 hit, "Nothing but Love," before "Bo Dee's Bounce," another pleasing instrumental, closes the set.
Rick Estrin gets more space to show off his prodigious harp skills here than most previous albums, and The Nightcats are at the absolute top of their game on throughout. Available wherever fine CDs are sold — and definitely a strong contender when next awards season rolls around. Pick it up. You won't be disappointed.
by Mark Humphrey
Nov/Dec 2019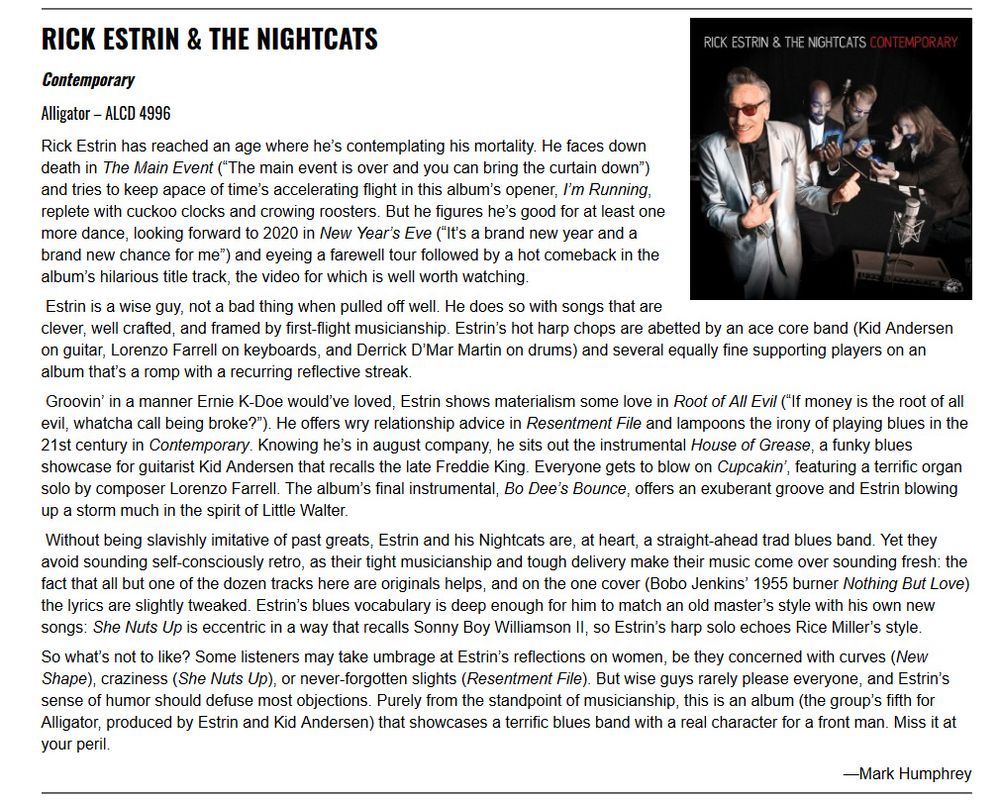 by Frank-John Hadley
December 2019
★★★★
Four albums since splitting with guitarist Charlie Baty in the early 2000s, Estrin still showcases a saucy, put-upon attitude that defines its own brand of hip.  His affected singing, which reveals skewed thoughts on gender clashes, mortality and the passage of time, lope through original blues and vintage rock-style tunes that also harbor his superb harmonica work.  "Contemporary" incorporates modern pop for fun.  The one cover, Detroit bluesman Bobo Jenkins' "Nothing But Love" finds Estrin emoting with just the right mix of kitsch and sincerity to vanquish nostalgia.  The instrumental "Cupcakin'," in particular, lends credence to claims that the current litter of Cats, including guitarist Kid Andersen, reigns as the best band anywhere.
by David Mac
October 2019
Rick Estrin is on the short list of greatest harmonica players in the world. He is also on that same list as a songwriter. Intelligence, irony and wit are his calling cards and he deals them with deft precision on Contemporary. It is one of the many reasons to celebrate this September, 20th, Alligator Records release by Rick Estrin & the Nightcats. 
Those other reasons have much to do with Estrin's marvelous band. They remain one of the premier blues ensembles working today. They put Estrin's material in a smart, sophisticated, uptown urban package that is distinctive. It also fits, albeit a very snug fit at times, within the agreed upon parameters of the blues tradition. 
As can be expected Kid Andersen wears a lot of hats. He, of course, is the band's esteemed guitarist and has been for just over ten years now. He also co-produced the album. He recorded and mixed the entire affair at his Greaseland studios. He handles the upright bass duties on four tracks. He also wrote one of the album's three instrumentals. It is a Little Milton inspired number appropriately entitled House of Grease. 
Estrin is again in the company of long time Nightcat organist and pianist Lorenzo Farrell. He wrote a wonderful instrumental, Cupcaking, on the album in that blues/jazz vein that I dig so much. His contributions on both instruments on Contemporary are indispensable. 
Contemporary features a change in the drummer's chair. The wonderful Norwegian drummer Alex Petersen had been splitting time betwixt Oslo and San Jose. He plays on half the tracks. Former and current Nightcat Derrick D'Mar Martin leaps in and lands in the driver's seat without so much as missing a beat. 
Any album, regardless of the fine musicianship and execution (there is plenty of both here), is only as good as the songs that are being performed. Here we have 12 songs and fifty minute's worth of great material most of it written by the great Rick Estrin. There isn't a clunker in the bunch. 
With tongues firmly planted in their collective cheeks, and with just the right amount of cheeky humor I might add, Rick Estrin & the Nightcats discuss the virtues of being contemporary on the album's title track. Just like his 2012 song (I met her on) The Blues Cruise on the Nightcats' album One Wrong Turn, the people Rick Estrin and company are lampooning are so self-absorbed and clueless they won't get the joke and those that do will have a good laugh. See, nobody gets hurt. Ignorance is bliss and unfortunately is running rampant in the blues world. 
I'm very glad that Rick Estrin & the Nightcats are having none of that. The album Contemporary once again proves this fact. Fresh, creative and rooted in decades old blues traditions is the brand that Rick Estrin & the Nightcats have created and they remain its most consistent practitioners.
by Grant Britt
September 2019

Rick Estrin & the Nightcats Tap into the Past for Their 'Contemporary' Sound

Rick Estrin is a time traveler. Surfing sound waves from the past, the Nightcats' vocalist/harpist pays homage to blues masters like James Cotton, Junior Wells, and Little Walter, incorporating their musical personalities into his own eclectic sound. 
Clad in suits that look like they might have been all the rage for a 1940s hipster, the Nightcats (named for Little Walter's first band) was co-founded by Estrin in 1976 with guitarist Charlie Baity. Together they created a unique sound rooted in the past, bolstered by Estrin's time-warping original compositions. 
Calling the latest release Contemporary is a tongue-in-cheek poke at the band's retro-rejuvenation/renovation vision. In the video for the title cut, after reading in Rolling Stone that blues is dead, Estrin scrambles to come up with a career-saving gimmick. Fearing that he's "Headed for oblivion cause my style's just too low down," he gets auto-tuned and hip-hopped for the occasion. But long-time fans need not worry — despite the struttin', stylin', and profilin', he and the band never abandon their mission, reverting to their time-tested sound in the end. 
The band sounds better than ever. Guitarist Kid Anderson, who took Baity's place when he retired in 2008, had to be able to hold a musical conversation in rockabilly, jazz, blues, rock, and big band swing, often in the same song. Anderson embraced that challenge, firing back at Estrin's mood swings with innovative licks as quirky as Estrin's delivery and lyrics. 
Estrin takes on another aspect of time travel on "I'm Runnin,'" feeling Father Time creeping up on him in this spaghetti western soundtrack. 
But as usual, Estrin and the Cats don't stay in one place long, the harpist breaking out of the western soundscape for a back alley Chicago harp travelogue before Anderson and keyboardist Lorenzo Farrell do some deep-space exploration on organ and guitar. 
In addition to his harp and vocal talents, Estrin is a world-class smartass who writes songs like Leiber and Stoller did for the Coasters with "Yakety Yak" and "Young Blood." On "She Nuts Up," his lady's mood swings go to a squirrelly place but he hangs around for the benefits when she nuts up after the lights go out and they get to rocking the house. 
As strong a presence as Estrin is, the Nightcats are a formidable force as well. On "House Of Grease," named for Anderson's Greaseland Studios where they recorded, Anderson shows off his versatility on  both bass and guitar. New addition, former Little Richard drummer Derrick D'Mar Martin, lays down a landing strip of solid funk for keyboardist Farrell to burble around on. 
The Nightcats' latest upholds the band's belief that with the right attitude and a stellar cast, you can have one foot in the past and still be contemporary.
by Mike O'Cull
September 2019
Rick Estrin & The Nightcats, one of the best blues bands in the world, is back and showing off a brand new album, Contemporary, that comes out September 20th, 2019 on Alligator Records. 
Having won 2018's Blues Music Award for "Band of the Year", Rick Estrin & the Nightcats features the combined talents of blues harmonica virtuoso and soulful singer Estrin, six-string superhero Kid Andersen, piano/organ man Lorenzo Farrell and drummer Derrick "D'Mar" Martin. They are poised to keep these four stellar talents busy for a long time yet to come. Contemporary is produced by Andersen and Estrin. 
Estrin has long been recognized as an outstanding harmonica player and one of the finest showmen in the blues. His fat-toned harp, quick wit, slick vocals, hipster persona, and unforgettable sense of personal style have made him an icon in modern roots music and taken him around the world. 
Born in San Francisco in 1949, Estrin's older sister gave him a copy of Ray Charles' The Genius Sings The Blues when he was 12 and he became obsessed with music. He began playing harmonica at 15 and by 18 was playing in clubs around the city. His harp style is deep in the tradition of harmonica masters Sonny Boy Williamson II and Little Walter Jacobs and he writes songs with the brilliant lyricism and humor of giants like Louis Jordan and Chuck Berry. Estrin is a bigger-than-life character in all ways but always comes across as the real deal. 
Contemporary is a wonderful record that finds Rick and his cohorts in fighting shape and ready to go. This time out, they take on some different sounds, arrangements, and grooves that may surprise some longtime fans but imbue it all with the classic Nightcats vibe. The record opens with the percolating noir-ish meditation on time and aging "I'm Running," in which Estrin recounts his dicey relationship with Father Time and his decreasing odds of escaping his clutches. The tune simmers on a low boil until Rick unleashes some of the most toneful harp licks of his career and shifts the band into a higher gear. 
The title track, "Contemporary," is hilarious and ultra-creative. It outlines all the changes Estrin needs to make to become a full-on modern superstar and digs deep into funk, heavy rock, and hip-hop sounds. It even includes a touch of Auto-Tune on Rick's vocals to complete the effect. It's the most stylistically daring song Estrin has ever recorded but he and the band slam dunk it for a big win. The track clearly demonstrates the depth contained within The Nightcats and just how much mojo Estrin has as a performer. One listen and you'll realize why he has five Blues Music Awards at home with his name on them. 
"New Shape (Remembering Junior Parker)" is a funky and soulful cut about a lovely young woman who has gone from "skin and bones" to a thicker, more alluring silhouette that very much meets with Rick's approval. It's a cool groove that'll move blues fans from the bar to the dancefloor in a hot minute. "House Of Grease" is an instrumental track that lets guitarist Andersen and keyboardist Farrell stretch out and show us all a good time. "Cupcakin'" keeps the instrumental glory going and sounds like a 21st Century version of Booker T & The MGs. "New Year's Eve" and "Nothing But Love" are also highlights. 
Contemporary ends with yet another instrumental, "Bo Dees Bounce," that takes the record out with the kind of straight-ahead blues that Estrin has built his legend upon. His phrasing and tone are spot-on and inspiring and the whole crew responds to every lick he plays. Rick Estrin & The Nightcats are mighty, indeed, on this new set and give no indication of ever slowing down. Estrin is a roots music treasure and we're all fortunate to have been blessed with another blast of his greatness.
Rick Estrin is interviewed by our friends at Rock and Blues Muse. Rick discusses the band's new album, Contemporary, the amazing Nightcats, learning from Muddy Waters and more. "Estrin is considered one of the best harmonica players and songwriters in the blues."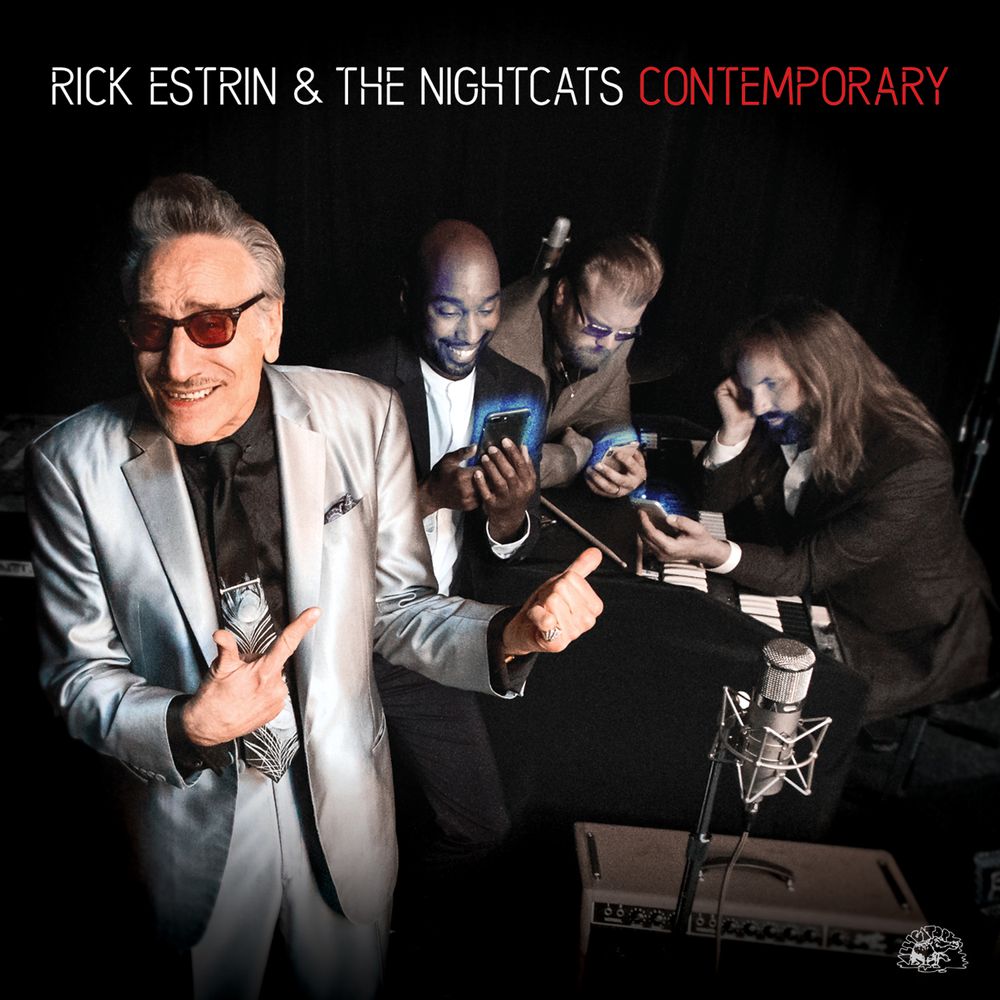 by Richard Ludmerer
September 2019

 For over thirty years Rick Estrin was the front man for Little Charlie & The Nightcats. During the time with them he won two Blues Music Awards; Song of The Year and Best Instrumentalist – Harmonica. When Charlie Baty retired from touring in 2008 Estrin re-formed the band as Rick Estrin & The Nightcats. Since then Estrin has been the recipient of twenty-six BMA nominations. In 2018 alone Estrin received seven nods and won the trifecta; his second award for Song of The Year, Traditional Blues Male Artist of The Year, and most importantly took home the coveted award for Band of The Year. 
This is the bands fifth album for Alligator and fourth studio recording. The current lineup includes Estrin, harp and vocals; Kid Andersen, guitar, upright bass and various other instruments; Lorenzo Farrell, organ and piano; and their newest member Derrick "D'Mar" Martin, drums. Other participants include Alex Pettersen, drums; Quantae Johnson, bass; and special guest Jim Pugh. The background vocalists are Lisa Leuschner Andersen and The Sons of The Soul Revivers; James Walter and Dwayne Morgan. The album is co-produced by Andersen and Estrin; and recorded and mixed at Andersen's Greaseland Studio in Santa Cruz. All of the songs are written by Estrin unless noted otherwise. 
This year Estrin received another nomination in the category of Contemporary Blues Male Artist. Perhaps it inspired him to write the title track with Martin and Andersen. Estrin pokes fun at established artists and their vain attempts to capture new and younger audiences as the band explores funk and rap. What sounds like a horn section is Andersen on a Synthesizer. 
Two songs are humorous takes on mortality. On "I'm Running" the aging Estrin sings "father time is on my trail. I feel him breathing down my neck, good god he's right up on my tail"; still no COPD yet as Estrin blows harp like there's no tomorrow, Andersen plays both guitar and bass, Farrell is on organ, as Pettersen hammers away on his drums. "The Main Event" is about Estrin's exit strategy. 
Estrin won his first BMA in 1994 for his song "My Next Ex-Wife" and it remains one of his most requested. Fans love when he sings about the battle between the sexes. On "Resentment File" Estrin sings "be careful what you do, be careful what you say" as the background singers chime "be careful, resentment file", the women they never forget; the band gets into a groove with the rhythm section of D'Mar and Johnson. "She Nuts Up" is about living with an explosive female; Andersen plays rhythm guitar and upright bass. On these Estrin is guaranteed to make you smile. 
"New Shape (Remembering Junior Parker)" is a narrative inspired by the late Memphis based bluesman that passed in 1971. "House of Grease" is a funky instrumental courtesy of Andersen; Farrell plays piano while Pugh sits in on organ. 
"Root of All Evil" features Estrin's sweet harp before Farrell takes a devilish piano solo "money can't buy happiness but it's a pretty good place to start". "Cupcakin'" is a jazzy instrumental from Farrell featuring the band. "Don't Like Christmas, crazy 'bout New Year's Eve" should receive a lot of airplay that time of the year "it's a brand new change in me, goodbye 19, 2020 come on in". 
"Nothing But Love", the only cover, was written by John Pickens Jenkins a.k.a. Bobo who recorded the song on Boxer Records in 1959. The closer "Bo Dee's Bounce" is a harp instrumental inspired perhaps by Bo Diddley's 1962 instrumental "Bo's Bounce". 
Repeated listening will confirm that this is the most musically adventurous recording in Estrin's illustrious career. Although recognized as a great songwriter he has also become a great bandleader. On "Contemporary" the band stretches the limits of their genre displaying both their creativity and collective musicianship. You can actually hear them inspire one another. This is another award winning effort.
by Greg Easterling
One of the blues' longest running acts, Rick Estrin & The Nightcats, is back with Contemporary, a strong new release on Chicago's legendary Alligator Records that continues a nearly unprecedented run that began over forty years ago. On their latest studio album, Rick and the band deliver a stylish, highly listenable release that taps into blues tradition while highlighting current issues in their trademark witty and wise cracking way. 
How many non-oldies groups have weathered a four-decades-long, two-stage career, including a name change and a number of band members? They began life as a band in 1976 when harpist/vocalist Estrin and guitarist Charlie Baty formed Little Charlie & The Nightcats in the San Francisco Bay area of California. They recorded a string of ten albums for Alligator with Baty, beginning with All The Way Crazy, quietly becoming one of the label's longest running acts as bigger names came and went. Baty retired from the road in 2008 but the band played on with current guitarist Christoffer "Kid" Andersen taking over from Baty. The group was rebranded as Rick Estrin & The Nightcats for Stage Two, an effective way of signifying a major change in personnel without losing the continuity and blues credibility built up over the previous thirty years. 
Their longtime association with Alligator has continued with five more albums, including the latest, Contemporary, the fourth studio recording under the Rick Estrin/Nightcats moniker. In this age of short attention spans and a greatly diminished record industry, it's a relationship to be valued. Despite Rick's charismatic stage presence, there's been a tendency perhaps to underestimate the Nightcats contributions to the blues, a wrong that was partially righted last year when they were awarded a 2018 Blues Music Award for Band Of  The Year. Lorenzo Farrell continues as keyboardist, a position he has occupied since 2003 and the Little Charlie incarnation of the band. The Nightcats most recent addition is onetime Little Richard drummer Derrick "D'Mar" Martin who joined the band in time to play on seven of the album's 12 tracks. 
Contemporary starts off fast, hitting the ground with "I'm Running", a tense, film noir like opening theme that addresses the concerns of aging baby boomers. Instead of invoking the traditional blues hell hound, Rick sings "Father Time is on my trail/I feel him breathing down my neck," following up with the first of many tasty harp solos, one of the major reasons to listen to a Nightcats release. Schooled by the classic Chess recordings of blues harmonica masters Sonny Boy Williamson, a.k.a. Rice Miller, and Little Walter Jacobs, Estrin has become one of the foremost blues harpists of today.